Square Fashions comprises of highly skill Operator, Technician and professional management staff for sewing department to meet our customer's diver's expectation. Besides providing the full technical support, we also focus on customers' changing needs and to proactively provide the right solutions. We deliver real and measurable value for our customers by producing best quality at each operation as we pride of our unique blend of capabilities.
Our Technical Team drives innovation across all major product lines to achieve the better solutions for higher productivity. The dedicated Technician for sewing line helps our customers stay on top in terms of quality by developing sewing processes.
We have 120 Sewing Lines at our two Garment unit. Our monthly production capacity on an average 3 million per month. We are doing all kinds of knitted item i.e. T-Shirt, Polo Shirt, Jacket, Trouser, Vest, Shorts for Kids/Boys/Girls/Men's/Women's.
We already started LEAN manufacturing procedure at our garment unit-2 and also we are going to implement modern production software i.e. ETS (Electronic Ticketing System) for measuring individual performance, increasing efficiency, auto generating report and advanced management system includes high quality production data capture to improve workflows and processes.
We have Sewing Training center from where we develop our apprentice to skill operator. Beside Technical/Skill Development Training we also provide awareness build-up Training to all of our Operator, Technician and Management staff as we are committed to the future development and continuous improvement of our capabilities – including people, products, processes and technologies to consider the pioneer position in garment industry.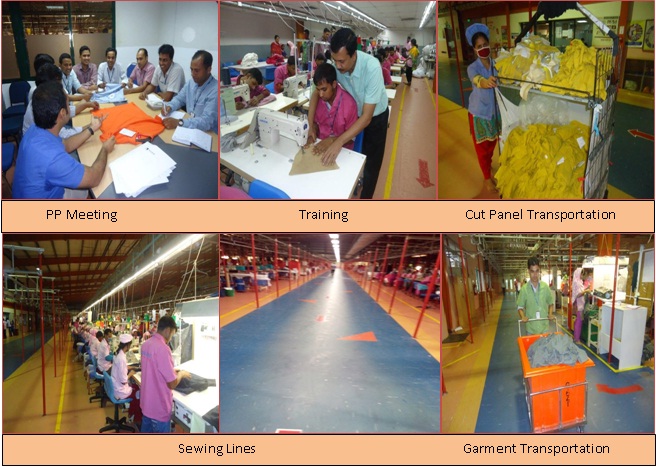 Finishing Section:
Every Buyer we have metal free zone & 100% garments pass through the Branded metal detection machine. We are more optimistic to emphasis on best quality at every operation in finishing section i.e. pressing, folding, packing, carton staking & shipment.
We have scan & pack for some customer, which is connected to the customers' EDI (Electronic Data Interchange system) and provides them with the details of the goods for better storage planning or distribution in advance.